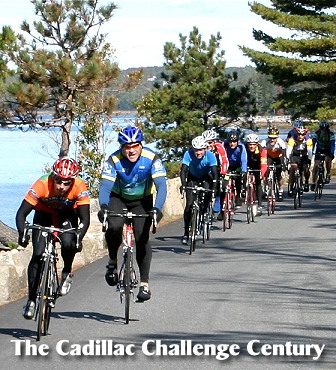 We have reached our rider limit and registration is closed at this time.

The 30th annual Cadillac Challenge is ON for 2021!
ANP has limited us to 100 registered riders. Registrations will be on a first come first serve basis. Please bring your signed and Covid initialed waiver with you to registration to make the registration more efficient.

This will be Dean's last year running the event, so let's make sure it's a memorable one!

(Other great news, we have found someone to take over for 2022, so the ride will go on!)

---
Ride Information
Century Route https://ridewithgps.com/routes/33724677 100 miles, 6500 feet of Climbing
Metric Route https://ridewithgps.com/routes/33724724 69 miles, 5000 feet of climbing
Date: On Sunday October 3, 2021 (rain or shine)
Rider Meeting: 8:00 AM
Ride Start: right after rider meeting
Where: Mount Desert Island YMCA in Bar Harbor
Parking: Parking is not available in the Y parking lot because due to the Farmers Market. There is parking available close by. (See below)
Registration Fee: Free! with Rider Waiver (donations accepted to defray expenses and cyclists are subject to an Acadia National Park Entrance Fee, details below)
Ride Details on this page
Food Safety and Food Handling Document
ANPs new reservation system for Cadillac remains in effect. Motorized vehicles, including personal support vehicles, will be required to be preregistered go up Cadillac. This requirement does not apply to cyclists and walkers, but cyclists MAY have to wait in line for their turn at the Cadillac entrance station, just like they do at the fee station. No line cutting! The reservation system is no longer in effect at the Ocean Drive fee station, only the usual park pass.
*Parking - There is a dirt parking lot at the end of the ballfields across the street from the Y. Parking is also available in the MDI Hospitals parking lots next to the Lisa Stewart Womens Health Center (just on the other side of Main St from the Y.) and the Administrative Annex (formerly the Main Street Motel) 100 yards toward town on Main St. More parking is available between the ballfields.
Please note that Acadia National Park policy dictates that bicyclists pay an Entrance Fee to Acadia National Park for their use of the Park.
If you have a weekly, annual or senior or military pass, bring it with you, and you and 3 additional riders will be admitted if you are together.
If you buy a $30 vehicle pass or a $55 annual pass at the fee station, you and 3 other riders in a group will be admitted.
If you don't have a pass, the bicycle pass is fee is $15, and only you will be admitted. So, if you are in a group and don't have a pass, it makes sense to buy a vehicle pass. If you visit us more than once or twice a year, it makes sense to buy an annual pass for $55. Save time and buy online and print
Please visit our Facebook page
If you have any questions or comments, shoot me an email at dsread47@gmail.com.
Dean S. Read
Ride Director
(207)281-2763 mobile
dsread47@gmail.com